East Preston, situated roughly halfway between Worthing and Littlehampton, is a village and civil parish in the Arun district of West Sussex. East Preston is home to some beautiful properties and beaches and really has that cosy and quaint small village feel.
History
East Preston has a population of around 6000, it was once a very small town, however after the second world war the population grew.
The original Saxon settlers farmed the area and the sea was a great source for farming salt, which was needed for preserving food.
In the 19th century Reginald Augustus Warren began purchasing farms, buildings and land in East Preston, ultimately becoming squire. After his death in 1911 his estate was broken into smaller areas, some parts sold and some left to the village.
In 1991 a war memorial was built in the foreground of the library to commemorate those who gave their lives in the wars. Many commonwealth troops were stationed in the village and surrounding areas during 1939 to 1945.
Things to do
Watersports
The Beach, Littlehampton is a watersports centre which is a great hub for all things watersports. Whether you're looking to rent equipment, receive lessons or grab a bite to eat in the cafe, The Beach will have something for everyone.
Kingston Gorse
Kingston Gorse is a private residential estate in East Preston with a private seaside and green. Kingston Gorse is home to some of the most luxury and lavish properties in Sussex and is the perfect spot if you want to partake in some scenic dog-walking or just to appreciate some of the amazing architecture on these showstopping homes. This estate is open to the public, so long as you respect the rules stated at the entrance.
Norfolk Gardens mini golf
Norfolk Gardens not only has mini golf which consists of loads of fun, challenging courses but it also has a huge play area for children, a mini railway which runs to Mewsbrooke Park, tennis courts, a bowling green and exotic inspired gardens! This option really has something for the whole family.
Mewsbrooke Park
Mewsbrooke Park is a great little day out with plenty in the park to keep you occupied for the day. If you are visiting in the Summer there are outdoor picnic areas, public toilets, football pitches and lots of greenery to play any bat and ball games. Additionally, weather depending, you can also hire a pedal boat or if the weather is not on your side, Littlehampton sports and swimming center is located in the park. There is also a conservation area called Ruby Gardens which is gorgeous no matter the weather!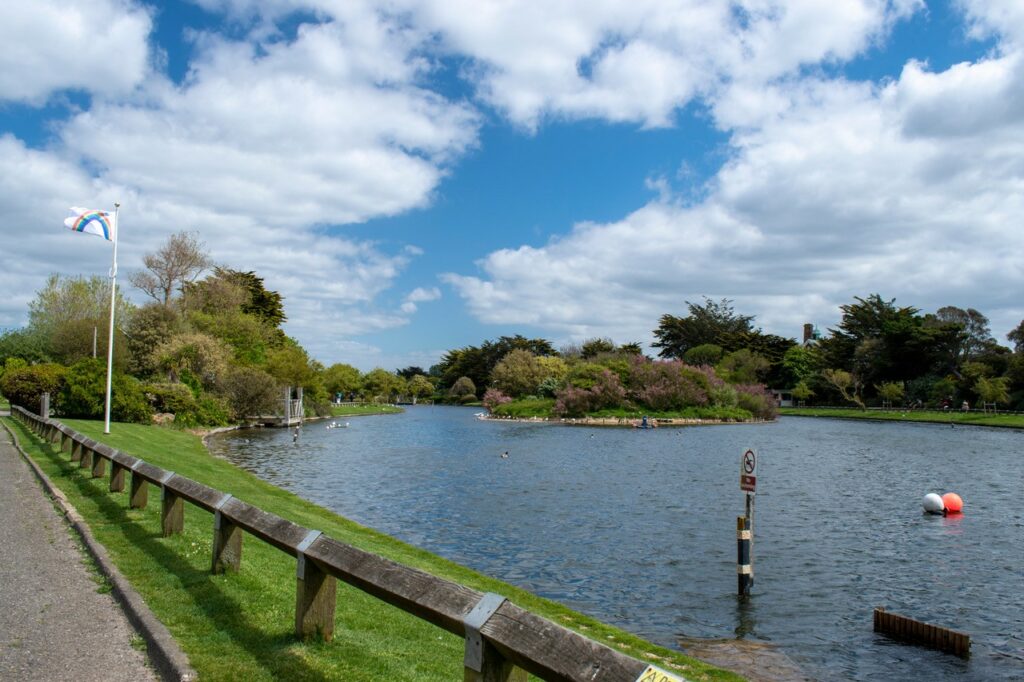 Littlehampton Museum
Just over 2 miles away from East Preston is Littlehampton Museum. This museum is home to Roman treasures, Seaside souvenirs and in the school holidays hosts all different kinds of historical events and workshops and entry is also free!
Food & Drink
The Seaview
This newly renovated hotel dates back to the 1820's but is the perfect modern setting serving modern cuisine and exquisite drinks.
Grub & Gumption
This cafe is the perfect mix of cosy and quirky. This eclectic cafe's interior is made up of mismatched, rustic furniture and its food matches its aesthetic, serving hearty, tasty brunch options. It also has really great Coffee!
The Clockhouse Bar
This bar/pub receives a whopping 5/5 stars on tripadvisor. It's the perfect place for relaxing and socialsing, hosting entertainment during the week such as open mic nights and quiz nights. As well as great traditional English 'pub food' it also has a great selection of Wines and Beers.
Fig Cafe and Tapas
If you want a little taste of Spain, this is the place for you. This is also a really great evening option for a date night or to enjoy with friends as they have some great Tapas options and a really great Wine selection. They are also praised for their great service!
Where to stay
Looking for accommodation and places to stay in East Preston? Book direct with Simple Getaway and save unnecessary fees on Airbnb and VRBO, we offer the cheapest rate every time, guaranteed! Give us a call today!