Brighton & Hove is a city of two halves which were joined as one in 2000 when they gained city status. Hove has an identity of its own, however, and is often considered quieter and more refined than its busier Brighton half which entertains more seaside revellers and party weekenders.
Whether you're staying in Hove for a luxurious seaside weekend, a romantic special occasion celebration, or taking your family away for a cultural city break; Hove has something for every age and personality.
History
For centuries, Hove was just one road forming a tiny fishing village rising up from the sea to the western end of Church Road – now Old Hove Conservation Area. It was only during the early 19th Century that expansion occurred in response to the development of neighbouring Brighton which saw the grand squares and terraces of Brunswick Town being built, forever changing the landscape. The glorious gardens and squares of Palmeira and Adelaide were to follow with The Avenues finally joining the two halves of Brighton & Hove during the Victorian era.
The arrival of the London to Brighton trainline in 1846 saw the mass influx of holiday makers and residents to the city, and by 1865, Hove had a station of its own. This instigated a huge building boom which closed the gap between Brighton and Hove to include holiday lodgings, residential homes, theatres and shops which give Hove its unique identity. 
What to eat in Hove
You are spoilt for choice when it comes to fine dining in Hove. There are several Michelin Guide recommended restaurants between Palmeira Square and New Church Road alone, which are peppered with independent foodie havens and glamorous wine bars. If you're after a more relaxed vibe, there are plenty of proper gastro pubs too, and you never need to look too far for Fish & Chips in this coastal city – so there really is something for everyone. Here are our favourite places:
etch. By Steven Edwards
etch. is MasterChef: The Professionals winner Steven Edwards' flagship restaurant located on Church Road. etch. has a modern look with views of an open kitchen where the chefs create and serve exquisite small plates for their tasting menu. Their philosophy is to celebrate local and British produce to deliver ambitious dishes with bold flavours and intriguing textures; their signature is marmite brioche. The wine list also offers a good selection from Sussex. With 3AA rosettes and a Michelin Plate, etch. has a waiting list, so definitely try to book well in advance of your visit. It is also only open Wed-Sun with dinner reservations Fri-Sat only.
The Ginger Pig
Listed as one of the Top 10 Pubs in the UK by GQ, The Ginger Pig on Hove Street (2 mins from etch.) serve traditional food sourced from Sussex's finest suppliers. Their well-executed, original dishes draw flavours from far and wide, including Europe, Asia and North Africa. Menus are updated regularly offering fresh inspiration and seasonality. They also serve a separate bar snack menu and mix seriously good cocktails – plus they are dog friendly! The Ginger Pig is the epitome of 'gastro pub' serving restaurant quality food and drinks in a relaxed and homely environment with friendly service. 
Franco's Osteria
This small independent restaurant stays true to the Italian tradition of keeping things simple and focusing on quality ingredients prepared well. Franco's is all about the soul of Italian cuisine. Whether it be pasta or Northern Italian pizza, you will be able to taste the passion and love that has gone into every dish. The rustic interior remains true to the traditional Osteria's of the owner's homeland, with chunky wooden tables and exposed brickwork. It is all about the atmosphere and intimacy that you can only find in small restaurants, where you have direct interaction with the owners. If you are looking for an authentic Italian experience, that is not going to break the bank, then a visit to Franco's is a must during your stay!
Paris Wine Bar
Established in 2011 by two International wine connoisseurs, Paris Wine Bar has become an integral part of the Hove scene. They offer a huge variety of wines and champagnes, alongside a stunning cocktail menu and an array of beers and spirits to suit all tastes. 
Inside, it feels homely with traditional oak beams and stylish brickwork off-set with brass and copper adornments. The bar area is lined by classic Chesterfield seating and parades of vintage wine, submerged in ambient lighting and soft music transporting you to another era altogether. French doors open to the Italian-inspired heated garden with intimate tables for two or family tables for four, offering a warm snug in winter or space for sunlit drinks alfresco during the summer.
Marrocco's
Unassuming and rustic, it is only the vast queues lining Hove Promenade which give an insight into the fine quality faire you receive in Marrocco's café and restaurant. The coffee and gelato are as authentically Italian as you can get having been part of the Hove Seafront scene since Italian founders Rennato and Maria Marrocco opened in 1969. As a family-run business, their children and grandchildren now run the restaurant to include a fine dining seafood menu of lobster, seabass and fruitti de mare platters.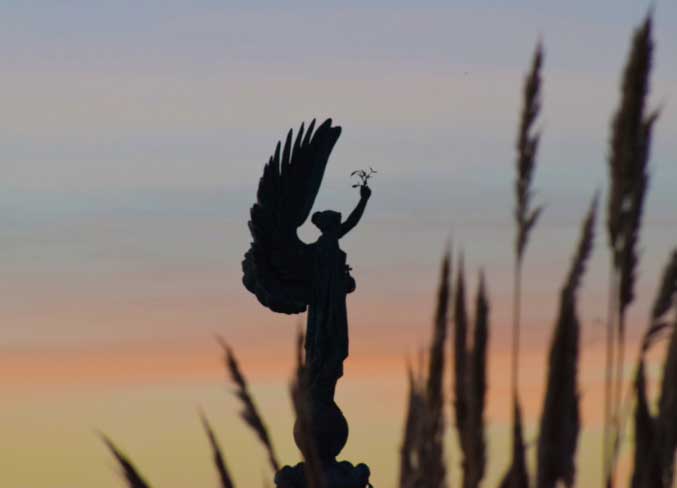 What to do in Hove
Green Spaces
Echoing the green of Hove Lawns, the Regency homes of Brunswick Town were built encircling beautiful gardens which were intended for private use of the residents only. Thankfully the gardens within Adelaide Crescent, Palmeira Square and Brunswick Square are now open to the public; bringing a touch of the countryside to the coast. Picnics can be enjoyed during the spring and summer months when they are often more peaceful than the beach. Brunswick Square hosts a two-weekend community festival during August with live music, food stalls and a children's parade, and is one of the longest running festivals in the city enjoying its 40th year in 2021.
A hidden gem, just a few minutes north from Hove Station is Hove Park covering 40 acres with immaculate lawns, mature trees and a 2km running path on its perimeter. Popular with families, dog walkers and fitness fans alike, there are tennis courts, a well-equipped children's play area, a community café offering delicious bites, and there are several outdoor fitness classes running every day of the week. Acknowledging the Engineerium which stands overlooking the park, there is also a miniature railway which runs for 2000ft along the park's edge and is open from March-October for children to ride.
Shopping in Hove
Hove is abundant with boutique and independent retailers looking to put some creative flair into your shopping experience. At the western end of Western Road and throughout Church Road, you'll find gorgeous fashions, bespoke interiors and designers tempting you inside with evocative window displays.
George Street also offers a wide variety of independent shops and is pedestrianised so you can potter in peace and sit outside at one of the many cafes for refreshments.
Music and Entertainment
Brighton & Hove has long been heralded as the city of arts and culture, with its showcase in the Brighton Festival and Brighton Fringe which have been running throughout May since 1967. It is the largest and most established multi-arts festival in England, and is a celebration of music, theatre, dance, circus, art, film, literature, debate, outdoor and family events, which takes place in both familiar and unusual venues throughout the city including The Old Market Theatre in Brunswick Town. Hove Lawns also host circus acts, Foodie Festivals and theatre performances, while the Artist's Open Houses have several trails throughout Hove.
In its wake, many more festivals were born to celebrate Brighton & Hove's unique culture and character, including Brighton Digital Festival and The Great Escape for music, and Brighton Pride – whose colourful parade starts on the Hove Lawns, to celebrate diversity and equality.
For big-name music events look no further than Hove Country Cricket Ground which has been host to Lionel Ritchie and Elton John in recent years and has the biggest and best firework display on November 5th each year.
Ready to book your holiday rental?
Book directly with Simple Getaway and save unnecessary fees on Airbnb and VRBO, we offer the cheapest rate every time, guaranteed!