Steeped in history and brimming with character and charm, the County Town of Lewes sits just 10-miles from Brighton & Hove, surrounded by the beautiful South Downs countryside. It is home to an 11th Century Castle, Anne of Cleaves' House and Harvey's Brewery, plus it also enjoys a thriving antiques & art scene which have put the town on the map for anyone visiting Sussex. 
The very name 'Lewes' is synonymous with its annual Bonfire Night which is the largest November 5th event in the world. Carnival comes to town with pagan processions, traditions, costumes, fire sites and fireworks which attract people from far and wide – it's quite the spectacle.
November festivities aside, there is plenty to entertain you in Lewes with art galleries, antique emporiums, museums and many cafes, local pubs and boutique shops, all serving and selling artisan produce made with love by local businesses and residents.
Take a walk through the cobbled streets and sample some fine craft ales on a brewery tour. Stroll along the river with the swans or seek out Downland public foot paths, drinking in the views over Sussex for miles around (and stopping off at one of the many pubs en route). From the Lewes Castle to Lewes Priory, there are numerous historic sights to explore, so it is easy to fill a weekend or a fortnight here.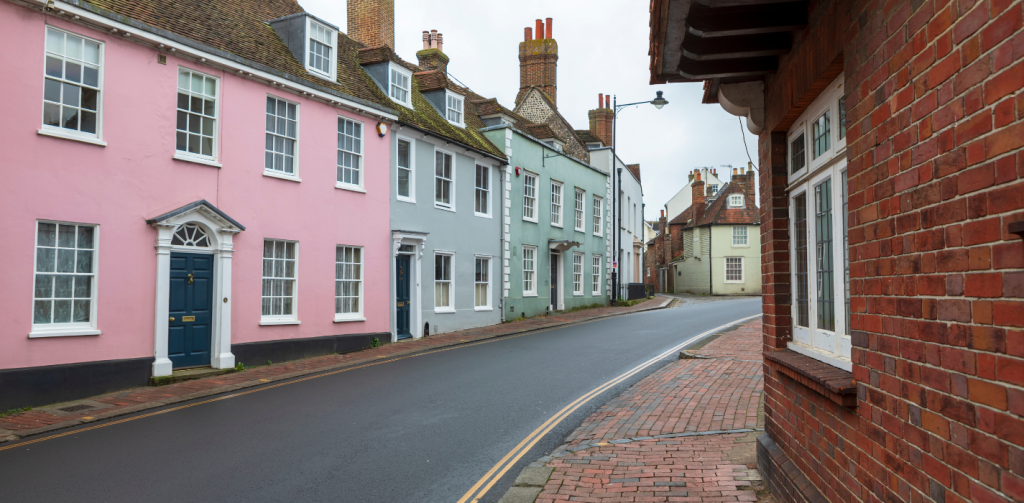 History
Lewes was founded in the 6th Century by the Saxons. The name Lewes is derived from a Saxon word, 'hluews' which meant slopes or hills – which seems an obvious choice once you've walked up the main High Street!
Saxon Lewes was a busy little town and river port with grain and wool being its largest exports. Lewes had weekly markets and in the 10th Century, it also had two mints, showing it was a place of some importance. Brighton was a mere fishing village in Medieval times…Lewes was where it was at.
The Normans later built the castle and the Priory (small abbey) which was later dissolved by King Henry VIII. The castle remains one of the most visited attractions in Lewes and the remains of the priory can be visited for free. The grounds are very beautiful and often host summer celebrations and historical tours and talks.
The railway reached Lewes in 1846 which meant the end of Lewes as a port as it was now easier to transport goods by train than by water. Lewes was made a borough in 1881 with a new Town Hall built in 1893. Victoria Hospital was built in 1910, and in 1920 Wynne Baxter gave the Pells to the town of Lewes; a large pond and recreation ground formed from part of the River Ouse. By 1860 this also included the Pells Pool which remains today and is the oldest freshwater outdoor public swimming baths in the UK. Be warned – even in the height of summer it is freezing cold!
Where to eat in Lewes?
Nestled into the South Downs countryside, the eateries of Lewes regularly serve only the finest, locally sourced produce. From Sunday Roasts to al la carte menus, or homemade cakes and savouries, there is always a delicious bite to be found. You'll also find recognisable high street chains such as Pizza Express or Cote, – so the cuisine of Lewes is varied, delicious, inventive and will suit all holiday budgets.
The Swan Inn sits at the eastern end of Southover Street, making it the ideal lunch or dinner stop after visiting The Priory or Anne of Cleaves' House – or it forms the starting point and finishing point of many circular Downland walks.
Not only do they serve an incredible array of ales, wines, spirits and non-alcoholic fayre, their food is exceptional. They have a sun-filled beer garden, friendly staff, a vinyl only music policy – and they're also welcoming to your four-legged friends. If you are visiting Lewes on a Sunday, their roasts are not to be missed. Serving a minimum of three different options for vegetarians and vegans, alongside locally sourced meat options, they have something for everyone.
Sometimes there's nothing you need more on a Sunday morning than a full English breakfast (be that a veggie or vegan option too)!! Robson's of Lewes is the longest established coffee shop and café in Lewes having been under the same ownership for 25-years, so they have honed the art of the perfect breakfast, homemade cakes and even the gingerbread latte! Their many, many 5* reviews on TripAdvisor speak for themselves.
If you're after something special, celebratory or indulgent – look no further than Fork Restaurant. Fork is a neighbourhood restaurant in Lewes serving modern British cooking.
Their constantly changing, seasonal menus reflect their support for local farmers and artisan producers. Their meat, vegetables, fruit and cheeses come from small local farms, while their fish is fresh off the boat at Newhaven. This small, organic-feeling independent restaurant comes complete with a Scandi-style interior and lovely staff, making it the perfect place for nice meal out.
The Depot Cinema, Restaurant & Bar
The Depot is a complete night out in the heart of Lewes; tucked in next to the station. It is, ostensibly, a cinema, yet it is home to much, much more than popcorn and movies. Glass-clad and contemporary, its southerly wall opens completely to a large garden where you can sit and enjoy a drink or dine in the sunshine during summer on comfortable sofas below canvas sails and parasols. Their menu is subline, and very reasonably priced considering the quality, alongside a sophisticated range of wines, beers and non-alcoholic drinks. During winter, you can sit inside with coffee and cake and simply watch the world go by.
Walking & Cycling
From strolling around the village to walking the South Downs Way, Lewes is the perfect base from which to start a rural adventure. There are several mapped footpaths leading through the patchwork fields at the base of the Downs, or up to the windmill where the panoramic views over the county are breath-taking.
You can jump on the train at Lewes and go one or two stops to Firle or Berwick to climb Firle Beacon or Mount Caburn; both favoured spots for paragliders – and being the Sussex Countryside, you are never far from a pub serving delicious local foods and a pint of Best.
If you want to stay closer to the town centre, Grange Gardens are a joy for summer picnics, coffee and a stroll, as are the grounds of Lewes Priory where you may even see a jouster during a summertime Medieval event!
Art & Culture
From Glyndebourne Opera House, to Chalreston Manor and the many art-studios and galleries dotted around Lewes and its surrounding villages, there is no shortage of creativity, art and culture in the town. It was once home to writer Virginia Woolf, and a favourite country retreat for the Bloomsbury set, and you can still visit these houses for tours and events.
In September, the full range of the artistic talent of Lewes is showcased in their annual arts event, Artwave where artist residents open their homes for an Open House trail through the town, and the streets and galleries are abundant with new work.
For theatre, live music and comedy nights, The Con Club offers several shows each week and there are many more pubs offering live-music at the weekend. For workshops, music events, local theatre productions and more, visit: https://www.visitlewes.co.uk/whats-on
Holiday Homes to Rent in Lewes
Whether you're a seasoned Lewes Bonfire Night visitor; a history buff or simply looking for a romantic rural getaway for two, Lewes is full of places to enjoy, from history, to dining, to walks and shopping. Lewes a creative, quirky and hugely attractive Sussex Town with a wonderfully welcoming community that must not be missed on a visit to the county. Give Simple Getaway a call and find out which Lewes Holiday Home will suit you and your family.
Already ready to book your holiday rental? Book direct with Simple Getaway and save the unnecessary fees on Airbnb and VRBO, we offer the cheapest rate every time, guaranteed!